Pedros Tacos San Clemente
Its tough to say that Pedros is a true locals secret spot in San Clemente but its also tough to argue that any real local doesn't eat here more often than not. San Clemente's famous Pedros Tacos is one the most familiar after surf meal stops anywhere in Southern California. Day in and day out surfers that have just groveled in waist high mush,  or scored head high peelers at local surf spots like Trestles, Riviera or Lost Winds find themselves bellied up to the counter ordering what seems to be the most famous carne asada burrito in town, awesome fish tacos and amazing little rolled tacos.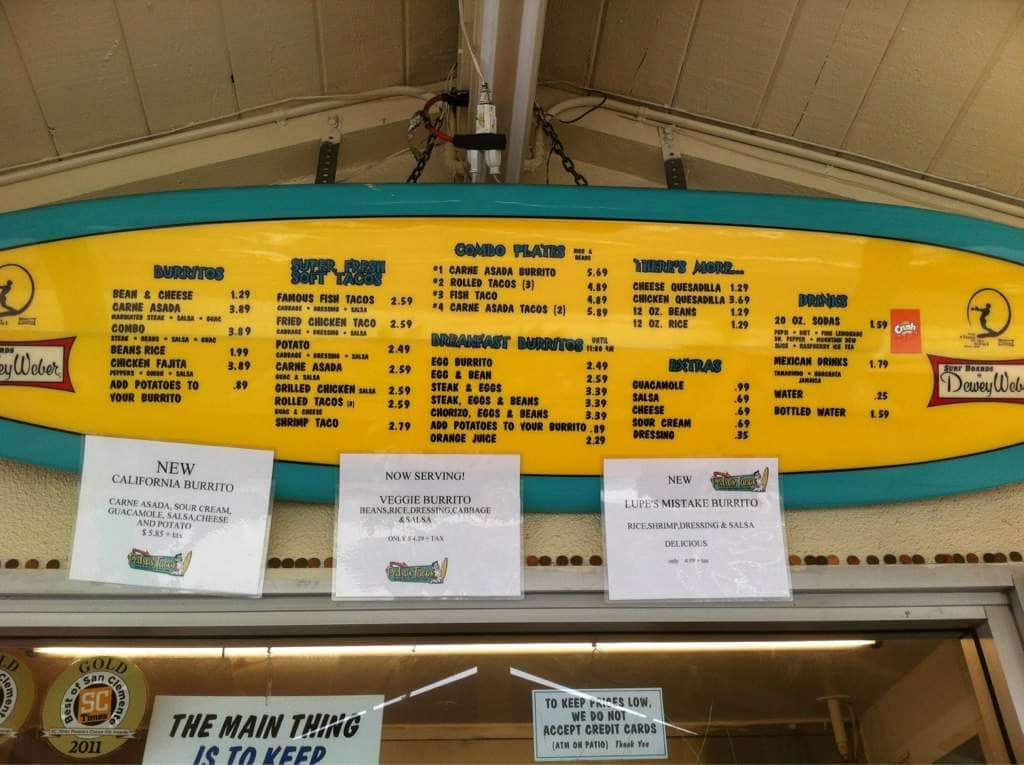 If you are planning a trip to San Clemente then it would be wise to stop in at Pedros for a meal. First off you wont be disapointed with the food, its always good and served hot and quickly. (insider tip - bring your own cup or they will charge you for water) 
If there is swell in the water you can almost count on seeing any one of a number of local or visiting pro surfers that have just been out at Trestles. 
The Original Pedros Tacos in San Clemente recently celebrated a major milestone with its 30 year anniversary. (this location was almost burned to the ground some time ago, but local firefighters where able to save it and pedros, although forced to close for a bit was able to reopen and keep serving their famous fish tacos and carne asada burritos)
Pedros is most famous for their fish tacos. The fish tacos at Pedros will rival even those you find down in Baja (which sets the standard for the fish taco) if you are coming to San Clemente for a surf at Trestles make sure to stop by Pedros and grab a fish taco, we promise you will leave smiling and full! The prices are great, the portions are great and the service is always great. 
Hows this for a fish taco? GOT GUAC?!?!?! 
A couple of these bad boys after a surf and its sleepy time then back out for some evening glass off at trestles and then maybe a few more fish tacos with the crew. 
The theres those insane little rolled tacos we mentioned before - These babies are just what the doctor ordered when your stomach is calling for some pure Mexican flavor fiesta! 
One thing you will notice after your first visit to Pedros is that they never skimp on the guacamole. You will have guac for days!
So if you are planning a trip to San Clemente then its a must you stop into our friends at Pedros Tacos. Be ready for a line if you are going around lunch time or dinner time. Most other times of the day the place will be busy but theres usually some waiting going on at the drive through and lots of jockeying around at the pick up window during the peak hours of lunch and dinner time. No matter what time you go though its always a good time for some Pedros!