Live like a Huntington Beach local!
Check out our true locals guide to the best kept secret spots and eateries in Huntington Beach!
Welcome to our first edition of our Huntington Beach locals guide (or how to eat, play and party like a local for visitors) We plan to update this section of our website every so often with a cool little piece of Huntington Beach culture that we feel truly represents what Huntington Beach is about. 
So your gonna come to Huntington Beach and you wanna live like a local? The famous "Surf City" or "Soul of So Cal" as its recently been dubbed (mind you the later cost the city $65,000 to come up with) way to go HB City council! really spending the tax payer monies well. 
Huntington Beach has changed a lot in recent years but more so over the past 20 years, which is understandable, progress get on board or get run over. Many of the locals have voiced concerns over the mass developments going on down at the beach front with places like Pacific City and the Shore Break hotel dwarfing much of the surrounding beach style cottage homes and basically destroying the ocean views that once where held by home owners adjacent to these buildings, but enough about the trials and tribulations of the locals vs. city council and developers! 
We are here to celebrate all that is still cool about Huntington Beach! Being that our company is currently based here in Huntington Beach we feel that we have some authority to present all the truly cool places the locals go and still cherish (whats left of them anyway, the places not the locals, theres very few left of the true locals) 
So your gonna visit Huntington Beach and you wanna know about food of course! Huntington Beach has some awesome local restaruants! Im not talking about chain spots like IHOP on main street for cheap hangover pancakes or Rubies Diner on the end of the pier (although you can get some of the best sunset views from Rubys) but lets stay on point here. If you are planning a visit to Huntington Beach you wanna know where the real locals go. You wanna know the cheap spots for happy hour, the best local spots for night life and of course the best spots for breakfast! 
Visiting Huntington Beach is a great quick escape from the Inland Empire 100 degree plus temps in the summer and its also a major travel destination for people from all over the world. Wether you are visiting Huntington Beach for a quick dip in the ocean to escape the inland heat wave or you just stepped of a 12 hour international flight we are gonna show you how and where to eat, party and play like a local with this informative Huntington Beach locals blog series. 
Huntington Beach local eats part 1 - (where to score the best local eats in Huntington Beach)
When visiting Huntington Beach youve got to think "beach front dining or Huntington Beach pier dining) but the true Huntington Beach locals know that, while there are some great spots down on the boardwalk and near the pier, if you are willing to venture just a mile or so back from the beach front you can experience some amazing Huntington Beach local resturants and escape the hustle and bustle of hour long wait times at some of the busier more trendy downtown and main street resturant locations. 
Our first recommendation to "live like a local in Huntington Beach" has to be Normita's surf city tacos. This place is legendary and is truly "Endemic" to Huntington Beach! It's about 1 mile back from the beach on beach blvd, at the corner of Beach & Indianapolis Streets next door to Hill top liquor (which by the way has some of the best craft beer selections in Huntington Beach)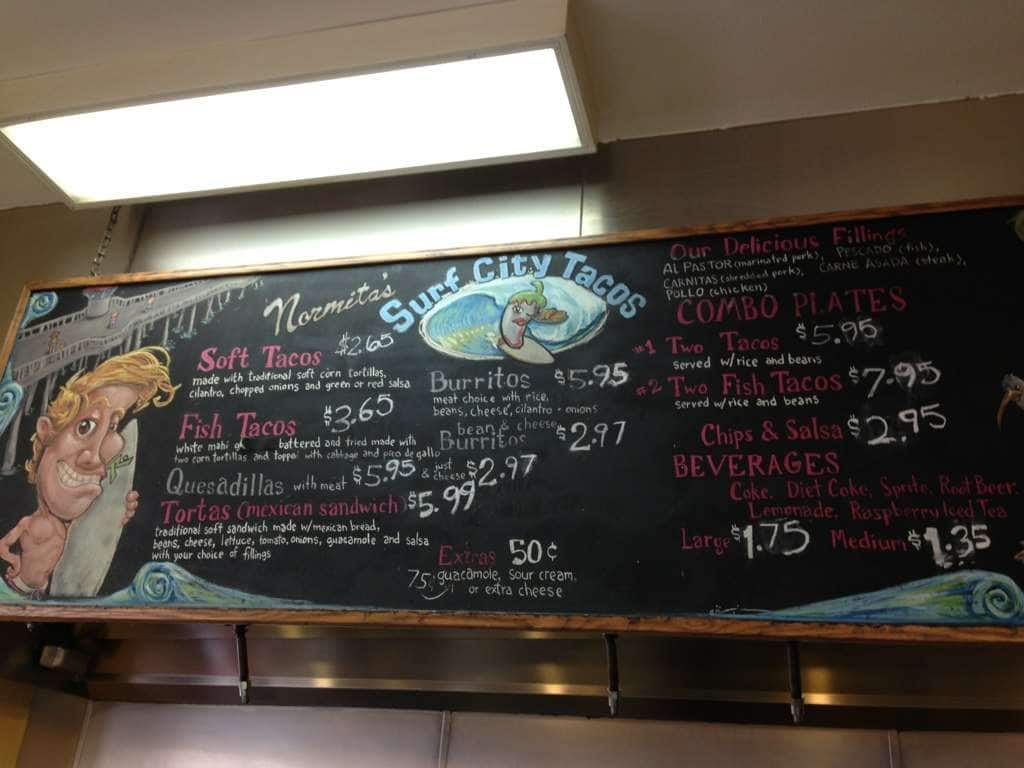 Normitas has the best fried fish taco in all of Orange County (in our opinion) so it only makes sense if you are in Huntington Beach, you've gotta stop in, you simply won't find a better fried fish taco in Huntington Beach than here.  Normitas has a pretty limited menu which pays homage to the old adage, do 1 thing well, don't try to be everything to everybody. They have awesome burritos, tortas, carne asada tacos and honestly, the best bean and cheese burrito we've ever had, make sure to order the bean and cheese burrito with cilantro and onions and red salsa! Another notable item are the breakfast burritos, so good! Hangover specials for sure!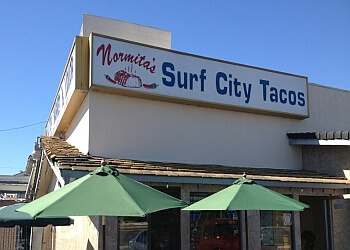 Normitas is one of those really small take out style places with about 5 or 6 bar stools inside and 5 or so tables outside. The place can get jam packed with a line out the door and they close early at around 5 pm most days. They usually have 1 or 2 people making food (its kind of a chipotle style set up/ assembly line) and usually Mrs. Normita herself is running the cash register. Normita is one of the nicest people we've ever met in the resturant business. Order times can be 10 - 15 mins for your food when its busy but cut them some slack, this ain't taco bell!
Normita and her surf city tacos are a true Huntington Beach locals spot! Her little taco shack is one of the only spots I tell all visitors they must try while they are on their trip to Huntington Beach. Normita always has a smile on her face and one of the coolest things is how she always finds time to engage the people eating, ordering or waiting in line at her register. Day in and day out she is there for the locals, always delivering the most amazing mexican food with a smile on her face and a killer vibe around the resturant. 
If your gonna visit Huntington Beach then make sure to add Normitas to your list of places, especially if you love fish tacos!